I
t's an indubitable truth that Gmail is the most popular email service with over 1.4 billion users.
Last week, Google released the redesigned version of Gmail.
The last time that Gmail got a massive redesign was in 2012. This time we have a plethora of new features and improvements right from the aesthetic look and feel to many productivity boosts. The new design is however restricted to the web for now and not available for Android and iOS.
If you don't know, now you know. 👀 the new Gmail → https://t.co/aToXavruhI pic.twitter.com/nEf8zsj3f0

— Gmail (@gmail) April 25, 2018
Flat design, hover actions, snooze and nudge, confidential emails, sidebar integrations and more..
To experience the new Gmail, simply click on Settings and hit Try the new Gmail.
It starts right from the loading animation. Cleaner and better.
More White Space
A flat design with white space and colourful icons, Google aims to streamline the design to its upcoming Material Design 2 which has been in the news a lot lately.
The sidebar on the left which displays the Compose icon, categories and labels can now be collapsed by clicking on the hamburger icon to the left of Gmail logo.
The Compose mail button has also received a redesign, not to mention several changes to animations.
The new Gmail also lets you do more without leaving your inbox.
Now you can view and download your attachments without opening the conversation. This feature was earlier available in Google Inbox.
To me, the inbox looks a little busy and that's where different display modes come handy.
Different Display Modes
If you feel the new design is in a state of tumult you can change the viewing options.
Head over to Settings and click Display density to pick between Default and a Comfortable or Compact view.
Hover Actions
Simply hover an email to either Archive it, Delete it, Mark as read/unread or Snooze it. This has become handy tool if you want to straight away delete an email or perform those tasks without even bothering to open it.
The snooze email feature which was already available in the Google Inbox app has now come to the web.
Snooze Emails
Declutter your inbox. Staf focused.
If you just received an email after your office hours or on Sundays or off days and don't want to attend it at the moment, you can snooze it.
You can snooze the email for a later part of the day or the next day, next week or even select a date of your choice. The email temporarily goes to the Snoozed tab from your inbox and resurfaces on the said date.
This helps to declutter your inbox and stay focused on what's important for the moment.
Nudge
It's easy to lose track of your important emails, the ones which require more attention. From the latest reports by TechCrunch, Google has developed an AI to filter your important messages. These messages stay pinned to the top until you reply to them.
Smart Replies
Another feature backed by Artificial Intelligence, Smart Reply helps to reply to emails with quick and readymade phrases. This feature which was already available in Google Inbox version has now come to the web.
Confidential Self Destructing Emails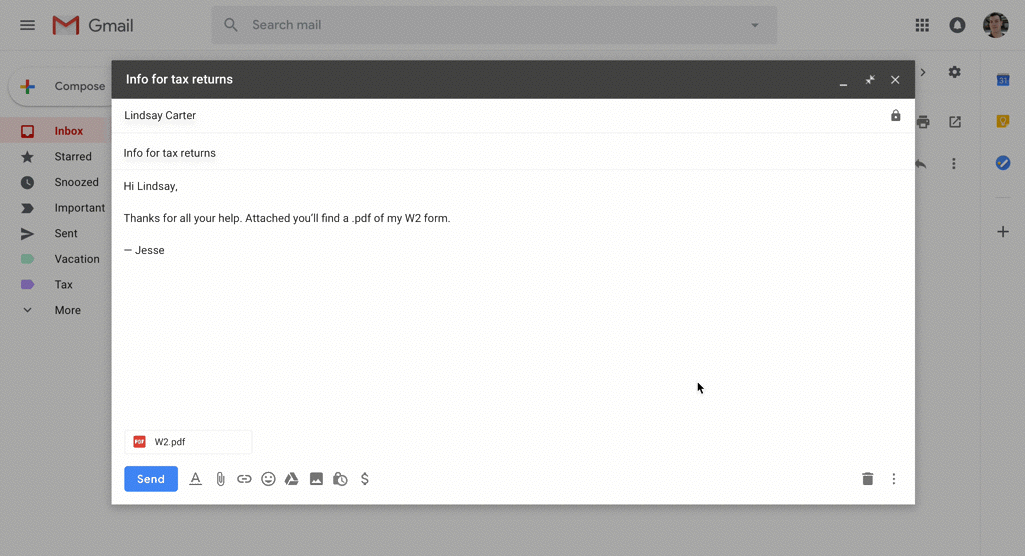 Google is still in the process of rolling out this feature. Unfortunately, I haven't received it and couldn't check how it looks like. Here is what I read on the internet.
The 'Confidential Mode' is useful when you want to share sensitive information through emails. This option restricts the recipient from forwarding, copying, downloading or printing information.
Just think of it as a limited time offer. What you send is just a link to the email of which the content is still in your account. And after the set date, the 'special offer' expires and the email can no longer be accessed. There you go with the self-destructing emails.
There is also an option to un-send emails.
However, there is no way to prevent the recipient from taking screenshots of the mail. And there goes the "Confidential Mode".
Google also aims to bring in Two-factor authentication(2FA) and several other security features.
The folks at TechPP have a detailed article on the Confidential Mode.
The Sidebar Integrations
The is the most important and handy feature of all.
Now, Gmail has integration with Google Calendar, Google Keep and Google Tasks without leaving your inbox.
You can now plan all your meeting, add important events to your calendar, jot down notes all from your inbox. Google has also released the Google Tasks app for both Andriod and iOS.
You can get many add-ons link Trello, Asana and much more from the G Suite Marketplace. Simple click on the + icon on the right sidebar to get a list.
Unsubscribe
Don't remember subscribing to those newsletters? You can always unsubscribe them. And now Google will suggest you the ones to unsubscribe.
Another feature is the high priority notifications.
That's all with the latest features on Gmail. Google is also rolling out an Offline mode which allows business users to take their account offline.
Didn't like the new design?
You can still go back to the classic one. Head over to setting and chose to Go back to classic Gmail.
But would you?
Image Courtesy – The Keyword